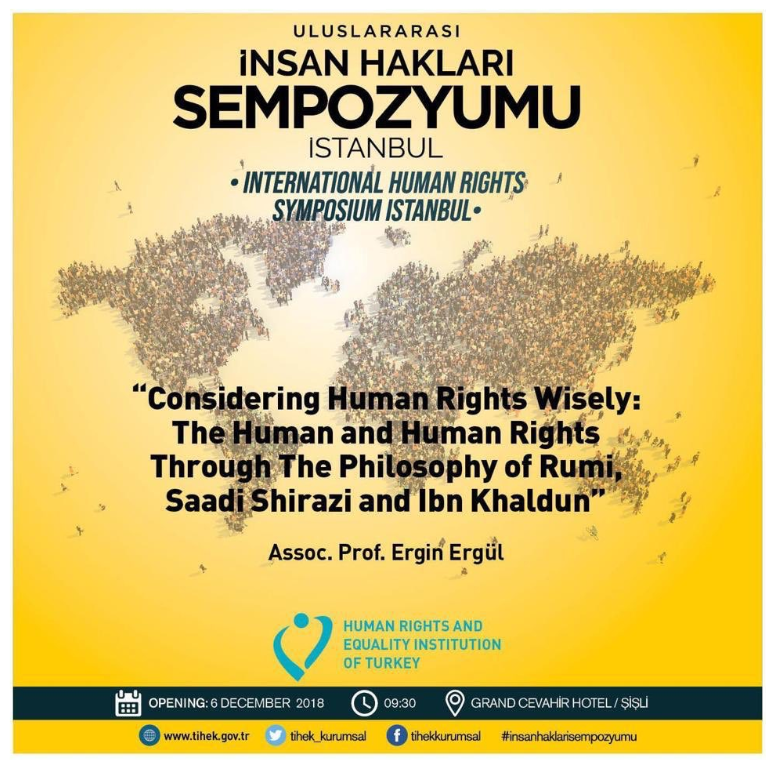 ABSTRACT
CONSIDERING HUMAN RIGHTS WISELY: THE HUMAN AND HUMAN RIGHTS
THROUGH THE PHILOSOPHY of RUMI, SAADI SHIRAZI and IBN KHALDUN
MawlānāJalāl al-DīnRūmī (1207-1273), SaadiShirazi (1210-1292), and Ibn Khaldun (1332-1406) are multi-disciplinary and erudite Muslim philosophers who have gained universal recognition with their unique and renowned works such as the Masnavi of Rumi, the Bustan and the Gulistan of Saadi, and the Muqaddimah of Ibn Khaldun. They continue to inspire us today in various fields. Each of these well-known philosophers placed the human, human dignity, freedom, equality and justice at the core of their worlds of thought. All three of them relied on the rich background of the radiant Islamic civilization in their philosophies. In critical times, filled with battles, civil wars, turmoil of social, political and economic hardships that they lived through, these scholars witnessed extensive violations of human rights. In the light of the experience and observation they accumulated over the course of their education at the most prominent centers of science and from the best teachers of their times, they delivered universal and holistic solutions to humanity's problems. In that, they upheld the balance and harmony between such values as knowledge and wisdom, matter and meaning, intellect and faith, right and obligation, and freedom and security.
These philosophers take upon a holistic, encompassing and non-discriminatory approach towards the human. They place the human at the center of the universe, society and civilization. They attach the human race's survival on earth to the establishment of justice in the society and the world as well as the prevention of persecution, in other words, violations of human rights. They attribute the creation of power and state to the need for protecting human rights. For them, achieving peace, welfare and happiness for humans in the world is subject to the achievement of a regime that respects the law and human rights. Furthermore, they place an emphasis on fundamental rights and freedoms, in particular the right to life, freedom of expression and the right to property.
This study aims to analyze the shared and complementary elements in their approach towards the human and human rights as well as presenting the different and original perspectives of these three universal and renowned philosophers of the Islamic civilization, which may serve as a source of inspiration for the present day in the field of human rights.
Keywords: Rumi, SaadiShirazi, Ibn Haldun, Human Rights, Wisdom